Dell Premier Partner Krome Technologies were selected as one of only two UK partners nominated to provide onsite testing for Dell's new VRTX solution, prior to its official release earlier today.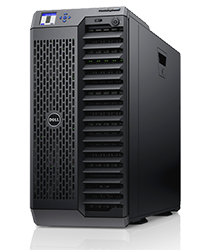 The new Dell™ PowerEdge™ VRTX is a highly dense and flexible solutions platform that converges servers, storage and networking into a chassis the size of a typical two-socket tower server.
With the power of up to four Dell PowerEdge M-Series server nodes featuring Intel® Xeon® processors, Dell networking and Dell shared storage in an eco-friendly form factor that plugs into any office wall outlet and is quieter than a hallway conversation.
As a leading UK Dell Premier Partner Krome were able to arrange access for pre-launch testing of Dell's new VRTX solution, with a view to providing independent feedback to Dell. Technical Director Rupert Mills evaluated the VRTX pre-production unit over the period of 1 week and had the following comments on the new Dell VRTX Solution:
"The virtualisation of the storage within the PERC controller worked really well. It was amazingly simple to setup using the CMC and will provide a great platform for people to get started with virtualisation from one box. The VRTX unit was very compact and well put together. Using it within a small organisation as their entire server platform or as a branch device for larger organisations will provide a straightforward and easy to manage environment."
"We can see the VRTX being of great use to our education clients as it will provide a simple to use, simple to manage, virtualised environment, constructed on high availability, modern infrastructure. Given the current indications we see this being achieved at a very sensible cost which will be attractive to a lot of people."
As a disaster recovery package, we see the VRTX being able to give our SME clients a cost-effective disaster recovery plan in conjunction with Dell's AppAssure software which will enable them to have a 'single box' disaster recovery plan for their environments. Given its size and its amazingly low noise output, it could be located virtually anywhere for these organisations, making it a very practical solution," concludes Rupert Mills, Technical Director at Krome Technologies.
The new Dell VRTX solution delivers data centre capabilities and simplified management – all in a complete compact package. Krome are delighted to be chosen by Dell to evaluate and support the launch of this new product and are looking forward to taking the solution to market following its release.
Further Information