Manage your entire communications infrastructure with a Horizon Hosted Phone System
Manage your entire communications infrastructure with an award-winning, cloud-based hosted phone system system, built for business.
Horizon is a hosted business telephone service that resides in the cloud rather than your office. It provides an extensive range of fixed and mobile telephony capabilities accessed through an easy-to-use web portal. The service allows you, the administrator, to easily manage your environment whilst enabling your employees to maximise their productivity.
Improve your collaboration capabilities, business agility, security, image and overall efficiency.
Business Features
Improve Productivity:

A Horizon hosted phone system has many business features with an emphasis on control and administration through the web that takes the burden away from your IT team. The system can quickly be configured according to your organisation's changing requirements, while your employees can manage calls easily and effectively. With only a minimal capital outlay, a reliable and proven service and a jargon-free approach to telephony and communications, Horizon is suitable for any size of business looking to improve its productivity and image.

Features you can easily control:

A Horizon hosted phone system puts you in complete control of your phone system and comes with an extensive range of call handling and management features, all operated through an easy-to-use web interface.

One number anywhere: 

Horizon integrates your fixed and mobile capabilities so that you never miss a call. Callers need only dial one number to reach your desk phone and mobile phone simultaneously; ongoing calls can be moved seamlessly from one device to another without hanging up and a single voicemail box can be accessed from any device.

On-demand service with no hidden costs: 

As Horizon is hosted on your behalf, you only pay for what you need on a simple per-seat basis. As you're not buying a PBX, there's no major hardware investment and no financing costs to consider.

Lower call costs: 

Horizon offers all the cost benefits of IP telephony including free site-to-site calls and cheaper call rates. If you use Horizon together with our mobile services you benefit from free calls between your fixed and mobile devices.

Enables flexible working: 

Horizon helps businesses become more efficient by enabling flexible work environments through hot-desking, home working and extending the service to mobile devices.

Number choice: 

You have total flexibility with the numbers you want to use. You can keep your existing numbers or get new numbers. Extend your business reach and use any local area number no matter where you are located. Have a London number in Leeds!

A business continuity solution: 

Unexpected business disruptions or events such as snow, floods, strikes or utility roadworks won't disrupt your business. Because Horizon sits in the cloud, the service provides business continuity features that allow your organisation to carry on making and taking calls, from whatever location, and in whatever circumstances.

Upgrade to Horizon Collaborate: 

Easily include all the business benefits of a Unified Communications and Collaboration solution supplied as a service, fully integrated with Horizon telephony.
Simple to use Features
Easy to use interface: 

Horizon provides a broad range of call handling features that are accessed via the web. The dashboard gives you convenient access to information such as your call history, voicemail and recorded calls. Personalised settings are quick and easy to set, ensuring your calls are handled effectively.

Administration interface:

Horizon provides IT managers with a powerful administrative management capability while giving employees freedom to control calls quickly and effectively. Set up is quick and easy and you can choose to pass down control to the user or you can retain control of the individual user features.

Call Recording: 

Record inbound, outbound or internal calls for compliance, customer service or audit purposes. This optional feature allows secure online playback and retrieval of call details. Set Horizon to record some calls, all calls or record calls on demand. Pause and resume a recording using the in-call menu option on the Horizon desktop app and certain handsets from the Horizon range of devices.

Auto Attendant: 

You can use Auto Attendant to provide callers with call routing options for different areas of the business or create announcements to inform callers of details such as opening hours and website address when the office is closed.
---
Download Datasheets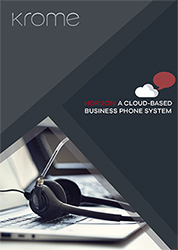 For more information on how you can make your workplace more productive with a Horizon cloud-based hosted phone system from Krome Technologies, or how we can help you to achieve your communication goals please download the full Horzion Hosted Phone System brochure here.
---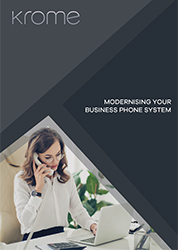 Businesses that need to upgrade their existing phone system will find a huge array of new solutions available compared to seven or eight years ago, but which is right for your business? This whitepaper looks at all of the key considerations you need to make before embarking on a telephone system upgrade.
---
Request further information