Palo Alto Networks officially released their new PAN-OS 8.0 today which includes an enhanced set of features for their industry leading Next-Generation Security Platform.
The new Palo Alto Networks PAN-OS 8.0 release has more than 70 new enhancements and capabilities to provide organisations with significant new capabilities to prevent successful cyber-attacks and secure high performance network, endpoint and cloud environments.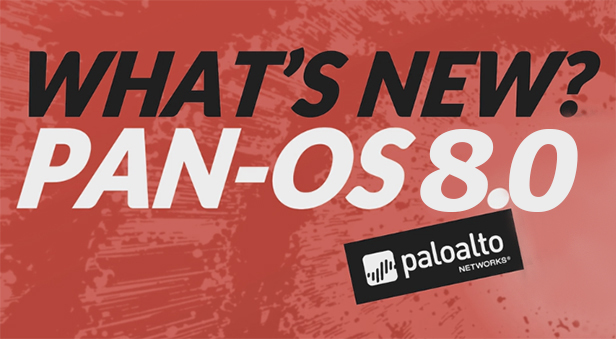 The new capabilities in PAN-OS 8.0 will help customers:
Secure the Cloud
Enhancements span from public cloud, private cloud to SaaS. The VM-Series virtualised next-generation firewall has been optimised and expanded to deliver industry leading performance. Automation features and integration with native cloud services allow customers to build cloud-centric architectures that are secure, resilient and scalable. For SaaS applications, it offers unprecedented levels of visibility with interactive dashboards and reporting focused on SaaS Security. Extend automation into SaaS applications with the capability to instantly quarantine and enforce compliance on cloud-based assets.
Detect and Stop Evasive Malware
Advanced threat prevention techniques leverage machine learning at massive scale to automatically create and deliver payload based C2 signatures while 3rd party threat feed integration accelerates the creation of prevention mechanisms.
Scale Reporting and Automation
Tying it all together is a set of management features that dramatically accelerate logging and reporting as well as capabilities that can initiate actions in 3rd party solutions such as ticketing systems sales strategy used by Check Point.
What we think
Having installed the new PAN-OS 8.0 internally, our Palo Alto Networks certified expert Paul Edwards provided the following insight into the new features:
"We've tried out some of the new PAN OS features on version 8.0, it is a nice release with some notable new feature enhancements and overall product improvements, it certainly builds upon the already highly performing and feature rich PAN OS 7.1."
Focusing on the content inspection side of things, as that probably the most noticeable for clients, rather than management and logging we have listed some of the key feature notes below:
Credential Phishing Prevention – Enables the firewall to detect when users are attempting to submit their corporate username and or username and password and block the submission.
Palo Alto Networks Malicious IP Address Feeds – Palo Alto Networks now provides malicious IP address feeds that you can use to help secure your network from known malicious hosts on the Internet.
Enhanced Coverage for Command-and-Control (C2) Traffic – The new, automatically-generated C2 signatures detect certain patterns in C2 traffic, providing more accurate, timely, and robust C2 detection even when the C2 host is unknown or changes rapidly.
Five-Minute Updates for PAN-DB Malware and Phishing URL Categories – These more frequent updates ensure that the firewall is equipped with the very latest information to detect and then block access to malicious and phishing sites.
"The new automatically-generated C2 signatures combined with five minute updates for PAN-DB Malware and Phishing categories ensure that even new malware variants are blocked within just minutes of being seen for the first time in the wild. When combined with the newly added malicious IP address dynamic feeds and credential phishing prevention features, PAN-OS 8 provides organisations with improved capabilities to successfully defend and secure their network against cyberattacks."
With over 70 new features in PAN-OS 8.0, that is just the beginning. For a list of the new features in this release you can download the full release notes below.
Further Information
Or contact us directly on 01932 232345