Following the recent CRN charity boxing event, Krome have proudly presented Macmillan Cancer Support with a cheque for just under £2000.
The event, organised by CRN UK, invites individuals from the IT industry, with no boxing experience, to apply for a place in this prestigious white-collar charity event. The 16 chosen candidates then spend 3 months going through an intensive training programme, whilst trying to raise as much money for their individually selected charities. All proceeds from the event, including the ticket funds for the 450 guests in the audience is then divided between all of the fighters to add to their individual sponsorship.
Having entered a representative in last year's CRN Fight night, and successfully raising £2,500 for local disabled charity The White Lodge, this year Krome's Wayne Trunchion put himself forward for the CRN Fight night selection process, dedicating his support to Macmillan, a charity close to his heart for personal reasons; "Having lost my mum to cancer 3 years ago, I chose to pledge my support to Macmillan. Anybody who has had the service and support of these amazing people will know why I feel so strongly and why I was prepared to get 7 bells knocked out of me to raise money for this great charity."
The event was a roaring success with a sold out venue at London's "The Brewery" at Chiswell Street and auctions during the intervals to help increase the total money raised for charities including St Luke's Hospice, Help for Heroes, Cancer Research, Road Safety Charity Brake and MND Association to name just a few of the other charities who also received donations. Wayne successfully raised £500 in personal donations, and has recently received a further £1464.00 from the event organisers, making the total donation just shy of £2,000.
Wayne's bout was the penultimate fight, and one of the best of the evening, seeing Wayne go the full 3 rounds against his opponent; his training and hard work paid off with when he was announced the winner based on points, "CRN Fight Night was an incredible experience, the night itself is something that will stay with me forever. I wasn't sure what to expect when I signed up, but everything from the training through to the event itself was incredibly well organised and thoroughly enjoyable. Taking part was a huge challenge, with a very steep learning curve. Winning my fight, and raising money for Macmillan Cancer Support, made all the grueling training sessions worthwhile."
A CRN representative reflected after the event stating; "all of our fighters put on a fantastic performance and each one should feel proud of themselves for all they have achieved in such a short space of time." He followed, "To put yourself forward for something like this and to raise money for charity is a commendable effort."
Raising this amount of money for such an influential charity was a great achievement for Wayne and Krome Technologies, and being the overall fight winner was the icing on the cake.
On Friday, Wayne handed over the cheque to Helen Rogers, Macmillan Area Fundraising Manager for Surrey and Kent, who said, "Thank you so much to Wayne for deciding to dedicate his fundraising to Macmillan. The money raised will make a huge difference and could help to fund a Macmillan nurse for 2 weeks such as the Macmillan Head and Neck Clinical Nurse Specialist at Ashford and St Peters Hospital. Really well done and thank you to Wayne and Krome for all their terrific support".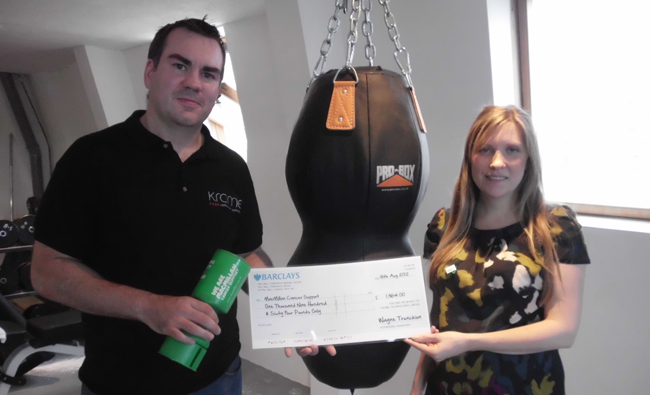 Wayne Trunchion, Krome Technologies & Helen Rogers, Area Fundraising Manager – Kent and Surrey, MacMillan Cancer Support.
Further Information