Krome deliver the first live demonstration globally of Dell DSM working across both the SC and PS platform
Following the release of Dell's Data Storage Manager (DSM) tool in May, Krome were the first Dell partner globally to have fully configured and delivered a live end user demonstration of the product working across both the Dell PS (previously EqualLogic) and Dell SC (previously Compellent) platforms.
Having run the very first Dell Storage Manager end user workshop just weeks after the release of DSM, where we used our own Dell demo equipment (PS4100, SC4020 + Dell Networking) to build a cross platform replicated environment, using Dell DSM to promote PS to SC live to an audience of prospective end users, this event was successfully replicated again yesterday on to a wider audience.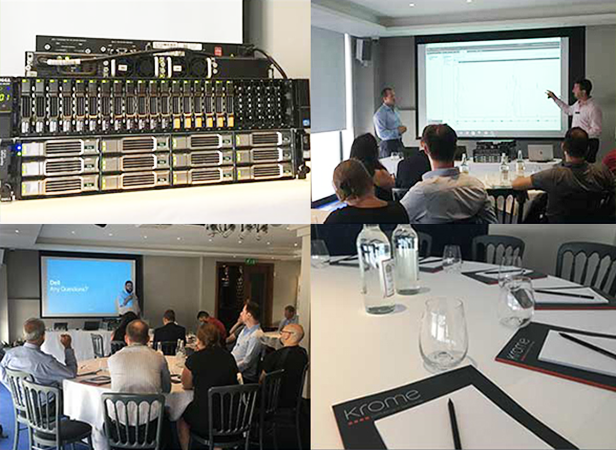 Maximising our clients investment in Dell
Since the first event we have subsequently started to build the very first Dell DSM end user solution with replication between PS and SC for a London based supply chain management group. The end user currently has a Dell EqualLogic PS based platform in production, which Krome will be moving to their nominated DR site and deploying the SC to their primary site. Prior to having DR in house, they have been working with a 3rd party to provide a hosted DR Service, which was both costly and unproven. By utilising Dell DSM, they can move the EQL to be their DR platform, something that previously was impossible natively within the Dell product set; now the client can maximise their investment in Dell, at no further cost, as DSM is a free tool, and insource their DR function, improving the overall service and reducing costs at the same time.
Dell have achieved something great with DSM
Dell really have achieved something great with DSM, they have taken two acquisitions, that are both proprietary, and constructed a tool that allows them the talk to each other, it's comparable to a tool that allows NetApp to talk natively to an EMC array, when you think about in that way, it really is something brilliant and it will ease the transition for many EQL clients to move to SC whereas before the cost of a complete refresh would have been too much to bear; we can now take a more piecemeal approach, or construct systems from the ground up that can take advantage of a mixed environment, that utilises both the SC's and the PS, benefiting from being able to deploy the right platform for the right business function, without compromise.
We are proud to have been selected by Dell as one of their top 100 stand out partners, in the area of Dell Storage products, working independently with our clients to deliver comprehensive professional services around the Dell storage portfolio, as well as working collaboratively alongside the Dell segment account executives as a trusted partner, assisting them to take DSM and the Dell storage offering to a broader market.
Krome's achievements with the delivery of these live DSM demonstrations, independently of Dell, have been widely praised by Dell. Dell's UK Storage Sales Director Paul Harrison commented:
"This is exactly what we want from our value partners, taking the initiative, building pipeline and being a viable option for our segment teams to accelerate transition to single SC-Series stack."
Further Information
Or contact us directly on 01932 232345